Whole House Automatic Filtration
Water Specialties Custom Builds Automatic Filtration Units To Meet Clients Water Chemistry.
Priced $595 & up! Varies based on tank size, media, flow rate, contaminate removal, model/complexity of control valve.
Example 1)
Deluxe 3 stage automatic whole house water filter utilizes Filter AG, KDF, & GAC. This state of the art whole house water filter system provides chlorine and chemical-free water to the whole house including all sinks, showers, dish washers, and washing machines for 700,000 gallons or 7 years! Our Clack metered head provides automatic back washing which keeps the media free of fine sediment and silt, prolonging its life and enabling it to function at peak performance.
3 Stage Filtration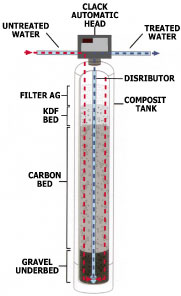 - Filter AG works to remove sediment larger than 25 microns and has a lifetime warranty.
- KDF-55 media safely reduces or removes chlorine, iron, hydrogen sulfide, heavy metals, and bacteria from the water.
- Granulated Activated Carbon (GAC) removes organics and some inorganics. GAC is especially effective for absorbing trace organic compounds such as THMs and pesticides, chlorine and disinfection by-products.
Clack WSITC Head Features
Solid state microprocessor with easy access front panel settings
Double backwash feature offers efficiency and optimum regeneration and cleaning ability
Days between regeneration feature: 1-99 days standard; 7-day optional
Down-flow regeneration
10 selectable pre-programmed regeneration cycles
Stores system configuration and operation data in nonvolatile memory
12-volt transformer provides safe and easy installation
Control valve design provides optimum service and backwash rates
Treated water regenerant refill
This unit handles flow rates of 10 gallons per minute, with a pressure loss of less than 2 psi loss at 60 psi. All components are NSF certified and warranted 10 year tank / 5 year head/valve.