Reverse Osmosis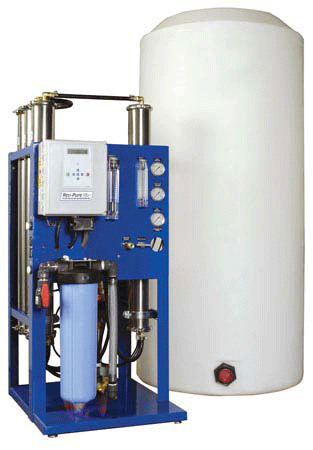 Reverse osmosis and other cross-flow filtration systems were first invented in 1959. It's a process capable of removing both dissolved organics and salts. Utilizing pressure, water is forced along the membrane surface. A percentage of water slips through the pores of the membrane material and is collected as "permeate". The remaining water termed "concentrate" flows parallel to the membrane material heading to the drain or following membrane. The concentrate transports particulates to the drain that would otherwise foul the pore structure of the membrane material. Typical reverse osmosis membranes have a pore structure of .002 microns or less. 1 micron equals .00004 inches. A human hair diameter is 60-80 microns. Because the feed and concentrate flow parallel to the membrane instead of perpendicular to it, the process is termed "cross-flow filtration".
RO, short for reverse osmosis, is driven by pressure which is typically 50 – 1000 psi. RO membranes are capable of removing nearly all organic matter and up to 99.8% of all ionic salt minerals. While most commercial RO units are single pass some are double pass, which is where the RO permeate is forced through a second membrane. Upon passing through the second membrane the double pass RO permeate is commonly 99.9%+ free of ionic, bacterial, and viral matter.
Why a commercial reverse osmosis system from Water Specialties?
Over 30 years experience.
Our company employs the only 3 Certified Water Specialist level 6 of 6 (Water Quality Association's) in the state of Utah.
Our experts go to great measures to insure our customers the best quality product available.
We design RO systems to fit our client's specific application. Every detail is reviewed and the water pretreatment tailored around the client's specific water chemistry and ambient conditions.
No client should wait 14 days for a new RO pump or controller to arrive. Since manufacturing companies stopped stocking parts, we started. Water Specialties stocks nearly all RO, and pretreatment components in our warehouse. This saves our clients downtime, money, and worry.